About "Okonomimura"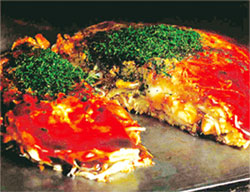 History of the famous Hiroshima dish okonomiyaki
Okonomiyaki started out in the pre-war period as a dish called issen yoshoku ("Western food for a dime") which was popular among the common people. Consisting of flour paste cooked with onions, dried shrimps, and condiment, it was seen as a kind of snack that could be eaten casually at confectionary shops and the like around town. Only after the war did it develop into something that could be eaten as a meal. In the sprawling Shintenchi district and elsewhere around the city, cheap food stalls and "okamisan" eateries (run by women on their own using part of a home) innovated by adding more solid ingredients such as cabbage, eggs, seafood, buckwheat noodles and wheat noodles to boost nutrition in those hard times, until today's Hiroshima-style okonomiyaki came into being.
Some of the eateries have English menus available, so do go and try out the flavors.
Restaurant information
4F
Atomu

Culinary capability like the Mighty Atom! The distinctiveness of our okomomiyaki is the thorough grilling we give it, without using any grease. Besides okonomiyaki, a wide variety of hot-plate grills is available.

Sonia

Each serving of our okonomiyaki is garnished with leaves of mint or similar and is a lighter meal than it may look. This wins us high ratings from lady customers.

Kaeruttei

Our okonomiyaki is pleasantly light-tasting as it uses no lard. We offer dishes ranging from mainstay hot-plate grills and tidbits to new and original dishes.

Daimarudou

We are visited by many entertainers and celebrities! You'll find a rich selection of choice dishes here in addition to okonomiyaki.

Kyuchan

Our distinction is our wide spectrum of meals – plain, spicy, Western, and more – offering diners a diversity of flavors to experience.

Itsukushima

Besides okonomiyaki, we offer a rich menu of hot-plate grills. We're on the left as you come out of the elevator on the 4th floor – the place with the blue shop-curtain.

Hakkai

We serve not only okonomiyaki, but numerous tidbits as well. The buckwheat noodles we use for our okonomiyaki are deliciously crunchy – come and give them a try!

Eegai

We have delicious okonomiyaki, a-la-carte items and drinks.
Please feel free to visit our shop as we have an easy-to-understand English menu waiting for you.

Roku

English menus are provided on request.
We also offer a selection of vegetarian options. Please stop by when you're in town for an unforgettable memory of Hiroshima!
3F
Suigun

At our eatery you'll feel at home as you enjoy okonomiyaki. Our kaizoku-yaki seafood grill is so renowned it has been featured by TV and magazines.

Teppei

Our eatery has a warm, attentive atmosphere. We insist on using additive-free ingredients to produce our light, refreshing taste.

Kazuchan

Managed by a big music fan, Kazucyan has a constant stream of music playing. Come here to savor okonomiyaki that is soft and fluffy, yet firm.

Takenoko

Our distinctive feature is the way we carefully boil the raw noodles and thoroughly steam the cabbage to bring out their flavors and aromas. Quick service with fine-tasting food in generous helpings!

Hirochan

Our pleasant restaurant has a bright interior where customers strike up lively conversation with each other. Overseas customers often come here to eat.

Ikki

Our manager is independent and has trained at many famous shops to display his skill.

Whenever possible, we carefully choose products made in Hiroshima for our ingredients.

Syouchan

Shoucyan makes a point of "Local production for local consumption". We devise ways to bring out ingredients' deliciousness to the maximum and place high emphasis on the overall flavor balance. Come and taste for yourself!

Ron

Our okonomiyaki is based on the traditional flavor. We also have a rich menu of hot-plate grills, and our lightly grilled mochi-cheese is particularly popular. Bright! Fun! You'll want to come back here again. Come see our manager's smile.
2F
Yamachan

We have a cheery restaurant that's full of smiling faces. Our mainstay dish is pork and egg okonomiyaki with buckwheat noodles – we recommend it! Don't hesitate to drop by!

Yakidouraku

We recommend our kimchi (Korean pickle) made by hand with South Korean ingredients. Also be sure to try our okonomiyaki – it's light-tasting, being made without any oil.

Momotarou

Our distinction is refreshing okonomiyaki that while preserving old-fashioned flavors is the kind you can eat every day.

Sarashina

We were founded 59 years ago. Our proud specialty is okonomiyaki with lashings of skipjack and vinegar-soaked shredded kelp. Come and give us a try!

Humichan

We're a long-standing establishment with over 50 years behind us. Our specialty "okonomiyaki that mom makes" is rated as so light-tasting you can eat any amount of it!

Chichan

We're a friendly eatery with laughter all day long. Overseas tourists often eat here. Our popular "Hiroshima-grown onion grill" is highly recommended.

Hassyou

We insist on using only ingredients that you can trust – things that are chemically unpolluted, therapeutic wave-motion water, and so on.

Tetsu

There's nothing else to say. Don't think about it; just eat Hiroshima okonomiyaki! Come make great memories with us.
Access map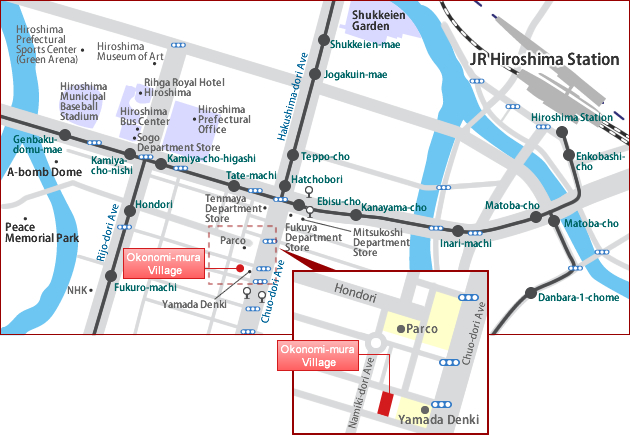 Address
5-13 Shintenchi, Naka-ku, Hiroshima
Streetcar
Take a Hiroden streetcar bound for Ujina, Eba, Nishihiroshima or Miyajima and get off at "Hatchobori" after about 10 minutes. The Okonomimura is a three-minute walk from there.
Bus
Get off at the Hiroshima Bus Center. It's a 12-minute walk from there.
Get off at the Hatchobori bus stop. It's a 5-minute walk from there.
Get off at the Shintenchi bus stop. It's a 3-minute walk from there.
About getting into the Okonomimura
| | | | |
| --- | --- | --- | --- |
| To get into the Okonomimura, take the elevator that is to the left of the stairs at the front of the Okonomimura Building. There's a large vertical "Okonomimura" sign in Japanese (red writing on a white background) on the front of the building (see the third picture on the right). Near the elevator there is another sign like this, with a red arrow pointing to the elevator. This sign with the arrow is in the middle picture on the right. | Okonomimura Building | Vertical "Okonomimura" sign with arrow to elevator | Entrance stairs at front of Okonomimura Building |